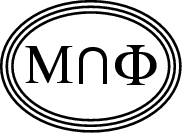 Back to
OP page
Combined
List
List by
Contributors
BOSE-EINSTEIN CONDENSATION
Contributed by: Elliott H. Lieb (Princeton Univ.), Sept. 15, 1998.
Abstract Recent experiments on dilute Bose gases of atoms seem to corroborate a long held belief that Bose-Einstein condensation occurs in weakly interacting systems. Is this really true?
After six decades of work we still do not have a proof of this in any continuum model, and the only known proof is for a special case of a special lattice model [1].

Further technical details are in the TeX document appended below.